All About Helen Carey
Helen Carey played Janet Westerman in all four episodes.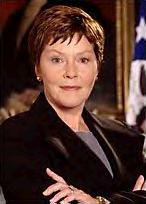 Information as found on FOX.com's American Embassy site:
Helen Carey's films include "The Pelican Brief," "The Shadow Conspiracy" "Black Knight" and "Just the Ticket."
For television, Carey guest starred on "Law and Order," "Seinfeld" and "Spencer For Hire." She was a series regular on "Turks" and had a recurring role on "Homicide."
Carey appeared in Roundabout Theatre's "Hotel Suite" and "London Assurance," which was nominated for the 1997 Tony Award. Other theater credits include "The House of Bernada Alba," "School For Scandal," "MacBeth," "The Cherry Orchard," "The Importance of Being Earnest" and "A Streetcar Named Desire."
---
Last update by Rory Parker at