All About Reiko Aylesworth
Reiko Aylesworth played Liz Shoop in the last three episodes.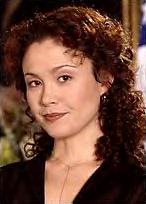 Information as found on FOX.com's American Embassy site:
Reiko Aylesworth's film credits include "Random Hearts" and "Man on the Moon," as well as the independent features "Shooting Vegetarians," "No Deposit, No Return" and "Childhood's End. "She was a series regular on "All Souls" and also served as a guest lead on "Law and Order."
Aylesworth's theater background includes appearances in "Peter Pan," "Charlotte's Web," "Anne of Green Gables," "Robbers" and "Kissing Christine/Missing Marisa."
---
Last update by Rory Parker at