All About Jonathan Adams
Jonathan Adams played Elque "Q" Polk in all four episodes.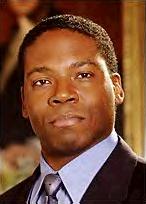 Information as found on FOX.com's American Embassy site:
Jonathan Adams' television credits include guest-starring roles in "Frasier," "City of Angels," "Walker, Texas Ranger" and "Felicity." His television movie roles include "The Bride in Black" and "Equal Justice."
Adams has extensive experience in theater, acting in such plays as "The Taming of the Shrew," "The Man Who Came to Dinner," "A Midsummer Night's Dream," "Cymbelline," "Blues for an Alabama Sky," "Two Gentlemen of Verona" and "As You Like It" for the Oregon Shakespeare Theatre Group. He also performed in "The Nerd" with the Milwaukee Repertory and "The Gospel at Colonus" with ACT Seattle.
---
Last update by Rory Parker at